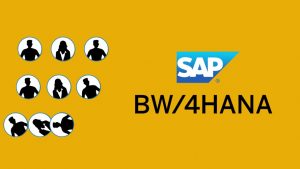 SAP BW/4HANA is no doubt an evolution of SAP BW that is wholly optimized and is also custom-made for SAP HANA.
The BW/4HANA code can actually only run on SAP HANA as it is interlinked with SAP HANA engines as well as libraries.
The ABAP element is several million lines of code are smaller when contrasted with BW on HANA.
This is considered to be an extension into the world of big data through SAP HANA VORA, an asset that will be heavily utilized by BW/4HANA.
1. Simplicity:
BW actually does offer 10 to 15 varying object types such as building blocks like InfoCubes, MultiProviders etc.
In order to construct a data warehouse.
In BW/4HANA, there will, in fact, be only four which will be quite expressive as well as powerful.
Expressiveness will not be compromised.
They will be rather easier to maintain, and more flexible and also less error-prone.
Existing models can be also improved upon as well as adjusted.
2. Openness
BW/4HANA in the form of BW does provide a managed approach to data warehousing.
This also means that prebuilt templates or building blocks are indeed provided for building a data warehouse in a standardized manner.
The latter does offer massive opportunities to be able to optimize the resulting models for SAP HANA considering the footprint, performance, data life-cycle.
Compared to conventional BW, it is also possible to deviate from this standard approach wherever required as well as applicable.
3. Modern UIs
BW/4HANA will be able to provide modern UIs for data modeling, admin, monitoring purposes that do run in SAP HANA Studio or a browser.
4. High Performance
Excellent performance will be given priority as far as BW is concerned and this has been so since the inception of SAP HANA.
The highly optimized performance will be focused upon. Most consumers do require the improvement and will also be able to augment the existing data warehouses.
It is often admitted that the mix of old as well as new need not be an issue at all.
What are the benefits of SAP BW 7.5?
Since the time of BW modeling in HANA Studio has been, simplicity has been the core theme of the elements in SAP BW 7.5.
The functionalities of the data modeling objects, Advanced DataStore Objects (ADSO) and Composite Providers have been improved to facilitate accelerated implementation and modeling agility.
This is accomplished with the simplification of the creation process of these objects, or the conversion of existing legacy objects to the best.
Data modelers and business users will, in fact, get to have more power to create ad-hoc reporting scenarios with advanced SAP BW Workspaces which happen to be now additional hierarchy features and do also support for uploaded local data.
Importing data into SAP BW is now in fact much simpler with enhanced Smart Data Integration (SDI) capabilities facilitating real-time streaming from several sources, giving direct access to any SDI remote source via OpenODS Views and Composite Providers and also the ability to replicate source data in its original format in BW.
The SAP BPC 10.1 Add-On, as well as BPC Embedded model components, are now indeed made available for use, similar to BW-IP (PAK), as well as ADSOs which have made plans to be enabled.
Why does a customer choose BW 7.50 Edition for HANA?
The competition to develop highly flexible and agile Data Warehousing SAP has made it possible for the next generation analytics through BW 7.50 powered by HANA referred to as BW Edition for HANA. Customers need to consider going in for SAP BW 7.50 Edition for HANA NW 7.50 as it comprises of enhanced integration with S4/HANA as well as for Cloud Technologies.
The SAP BW 7.5, edition for SAP HANA that supports modeling with HANA optimized BW objects does lead leads to a highly simplified governance of newer implementation projects as well as future proof architecture for Data warehouse implementation.
Features offered in BW 7.50 (BW Edition for HANA):
• BW runs simpler along with new agile and flexible lean data modeling
• Highly Simplified governance as well as Faster time to Market
• Renewed intuitive UIs in Eclipse as well as SAP UI5
• Matured ADSO replaces all the data persisting objects.
• Tools allow the conversion of existing Data Provider objects to ADSO
• Composite Provider does replace all the virtual providers
• HANA views can indeed be produced for all the data providers.
• New HANA Exit Variable to be processed in HANA DB
• Support for More than one Billion Master data records for an info object as well as Disable Display attributes              to Reference characteristics
• Highly enhanced SAP BW Workspaces. Workspace queries can be generated.
• SDI to be able to consume the Local HANA data or remote data through OpenODS view into persistence layer
• SAP HANA Dynamic Tiering: Automatic data movements to dynamic tiering
• Enhancements to NLS to access the archived data for F4 help. Statistics update for NLS access
• Flexible ODP based data distribution thru OData
• BW-IP/PAK enhancements to be able to generate planning query in the workspace designer and also to                       generate local dimensions and hierarchies.